Magazine Perks is the flexible and hassle free way to enjoy your favorite magazines with no long term commitments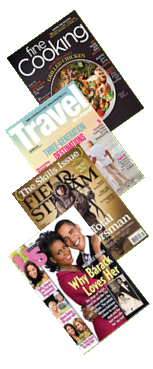 Just login to your account to view your magazine selections, change them or add new magazines to your order!
Your Welcome Package will arrive in the mail within 7-10 days of your order. It will have all the details about the program benefits and how to use them. Didn't get your Welcome Package? Let us know.
The Welcome Package will include your 'Reward Voucher' and will contain full instructions on how to claim your reward.
After the trial period, unless you call or email to cancel, your service will automatically continue and you will be charged the low monthly fee described at the time you enrolled, to the card you provided when you enrolled.